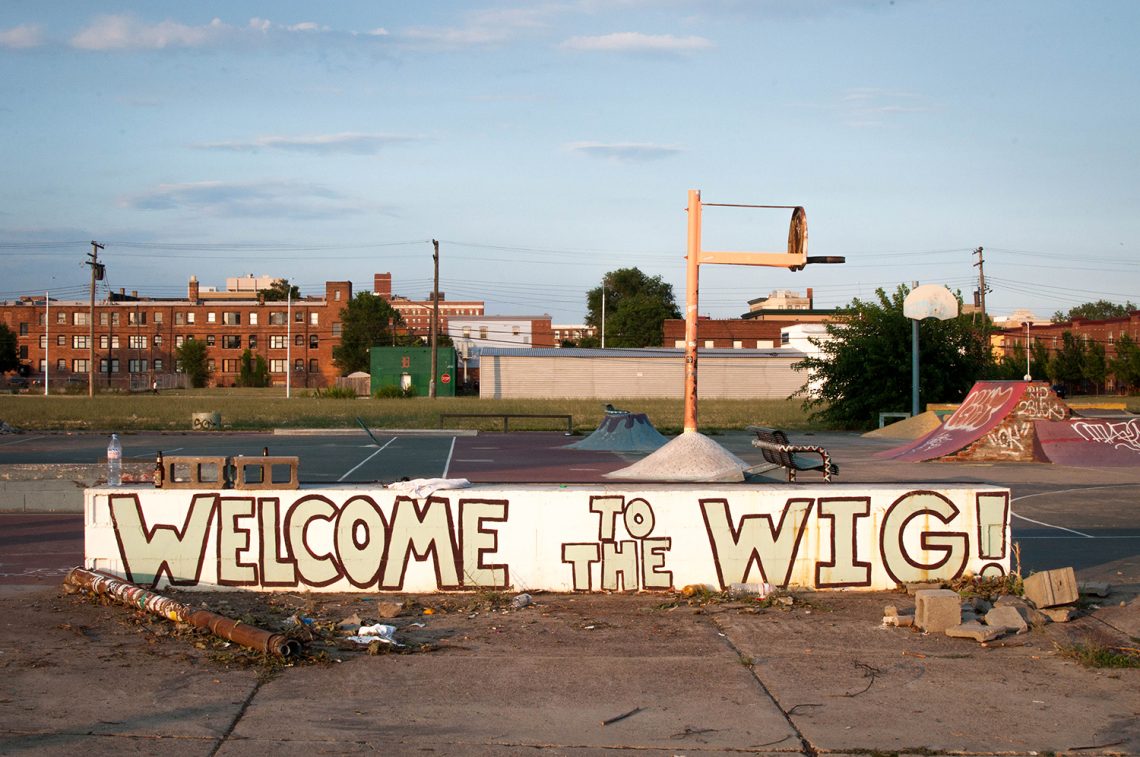 Name? Job? Years Skateboarding?
Derrick Blaine Dykas, I run Community Push by day, I'm a grumpy bartender by night and I've been riding a skateboard for 20 years now.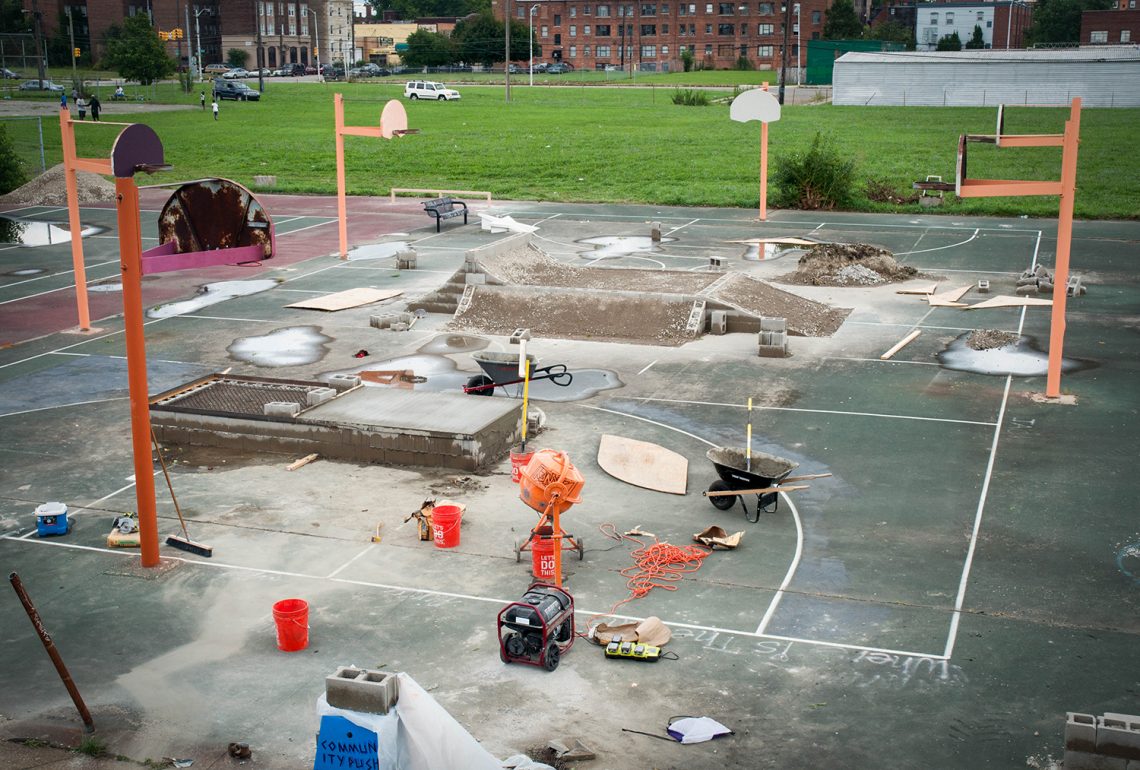 What is Community Push?
Community Push is a nonprofit I started a few years back to help progress skateboarding in the city of Detroit.
All the shops were in the suburbs, and there wasn't a voice for skateboarding in the city. The first thing we did was adopt the abandoned courts at the Wigle Recreation center and made "The Wig" And since then, we let it take it's own shape. We've collected and distributed about 40 completes for kids in the city, hosted dozens of events, contests, video premiers, built streets spots and more recently, are getting hired by the city to oversee design and construction on the first skatepark the city is building.
Whats up with the event you did yesterday?
Yesterday we did "Open Streets Detroit" an event that closes down a large chunk of the streets in the city to promote health, wellness and community. They asked us to bring the element of skateboarding to the event, and since we normally build with cement, it was fun building stuff out of wood for a change. We had a good location for the event, and everyone had a great time.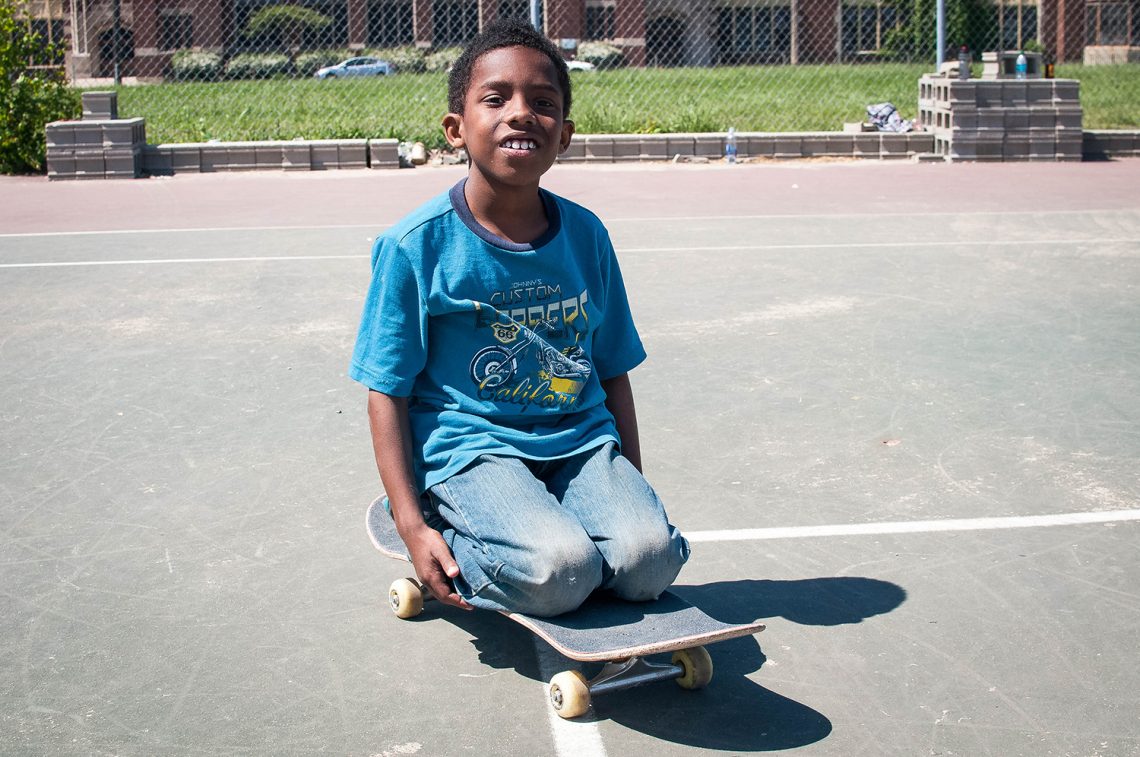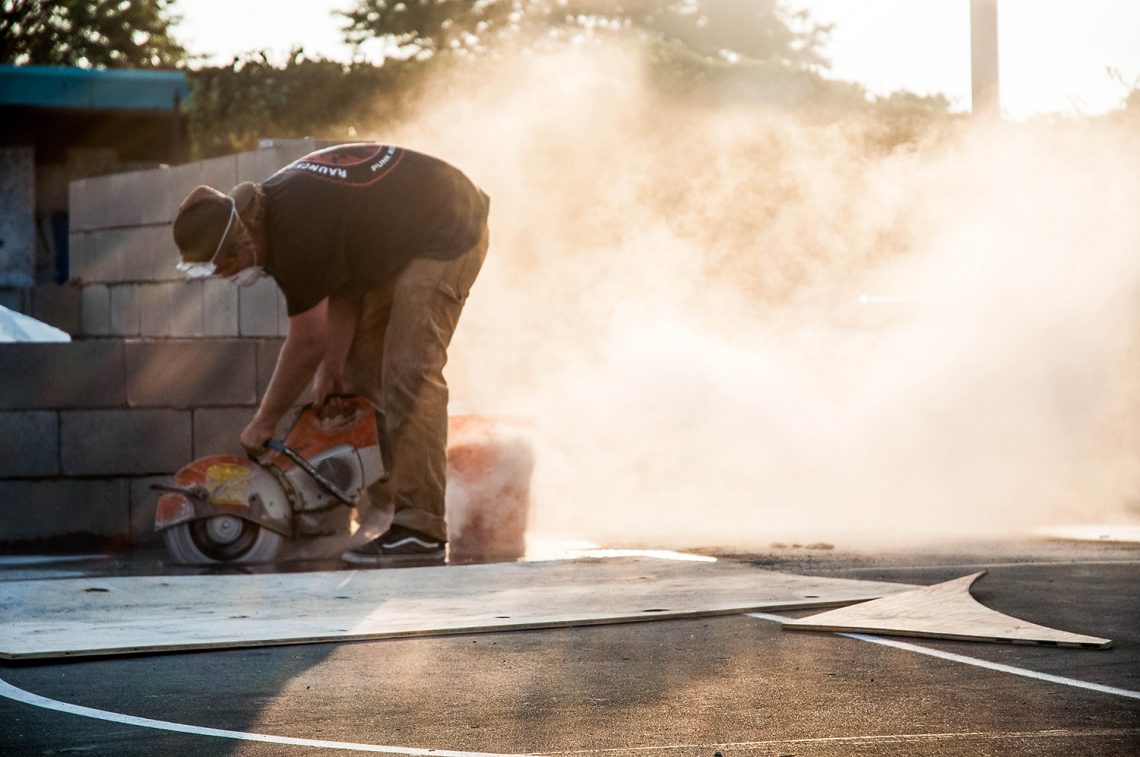 Is the wig still around? Do you ever think it will be demolished?
The Wig, The Wig, The Wig. Yes, the Wig is still there, and as fun as ever, but for how long, I still don't know. There has been some issues with the land, and they've been holding it over our heads for almost two years. It's not deliberate, it's just bureaucratic bullshit no skateboarder wants to hear. We adopted the land, and then a developer came in and is trying to build housing in its place. I've heard on the city side of things the proposal might fall through, but I can't believe anything they tell me any more, it keeps changing. I'm just going to ride it out, it's my favorite place on earth.
Best thing you've seen at the wig?
The best thing I've seen at The Wig can't be summed up in a single answer. From Zered's frontside grind the top of the deathbox on the wall when it was still up, Tony Christoper going over the entire pyramid, Ray Barbee doing flatground 360 flips, random dude getting jerked off on the bench. But the best thing I've seen over time has been the way it's brought everyone together to make it happen. Everyone has brought something to the table, and The Wig is everyone sitting down to eat.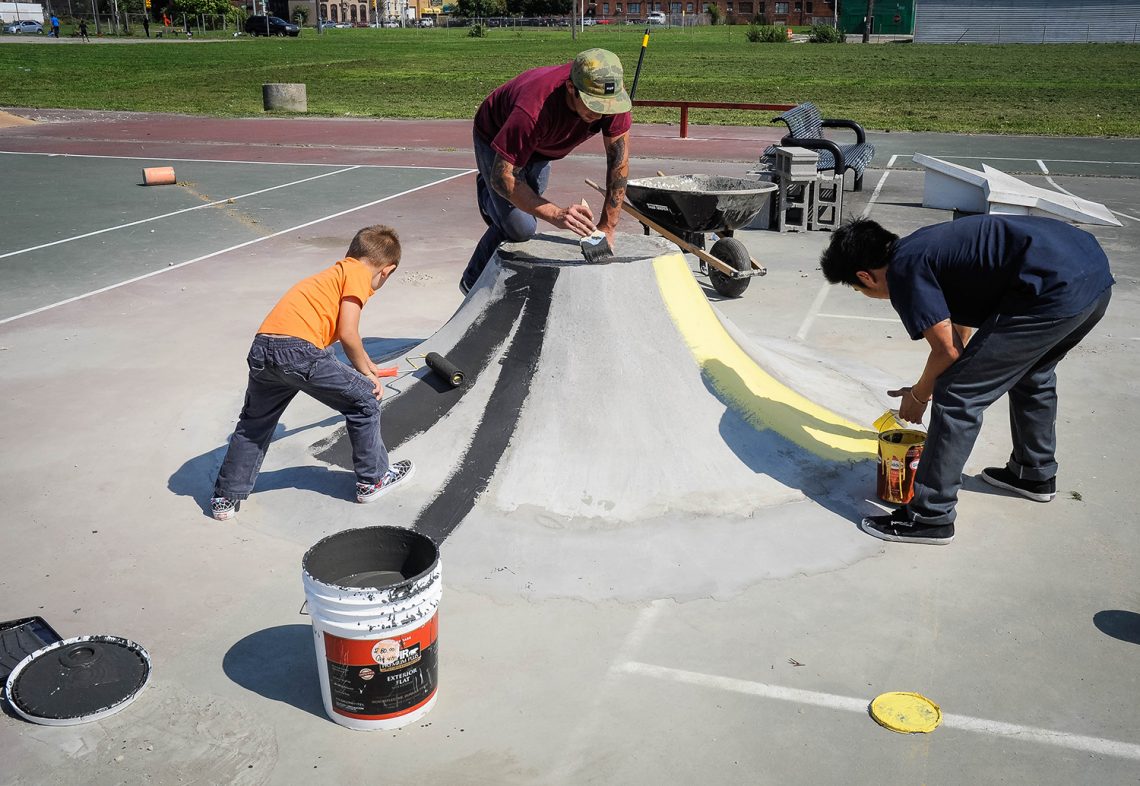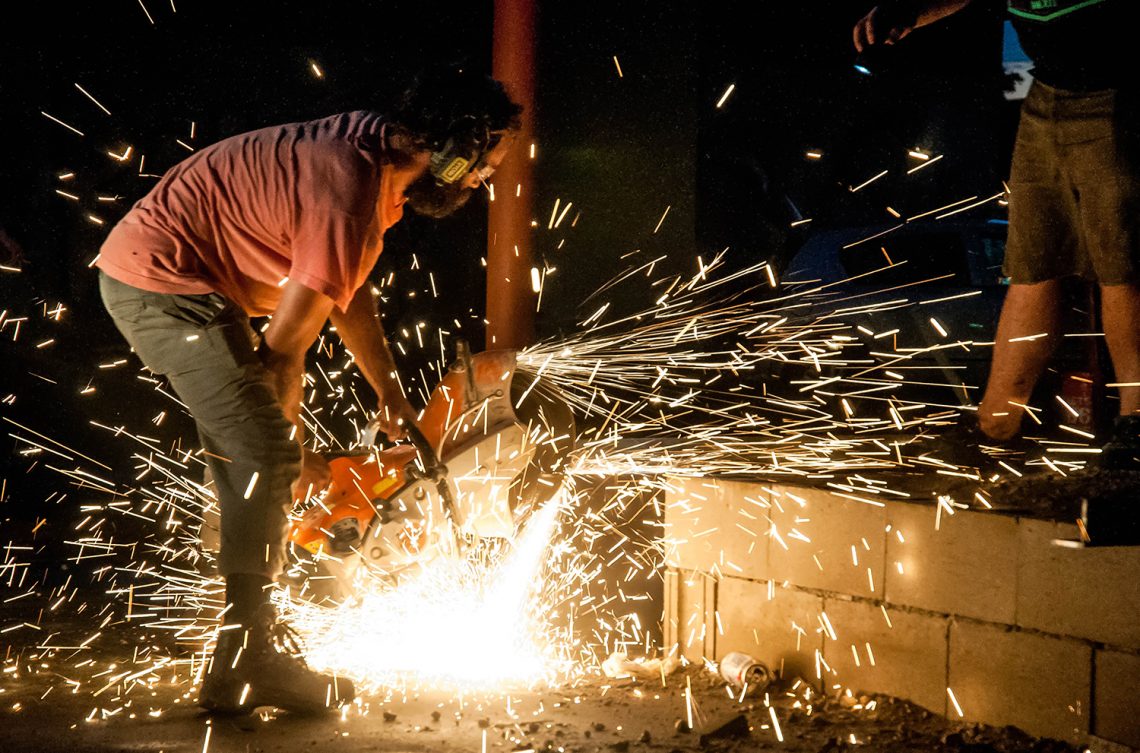 Favorite MI skaters?
Ehhh, that's tough, people come and go. But currently; Francois Decomble. Nobody has more fun on a skateboard than he does, and that reflects every time you see him on one. Past would have to be Josh Robertson. Style, trick selection, spots, attitude, he's got it all. He moved to SF a decade ago, and kids here still look up to him. Honorable mention goes to Jamie Jeffery, Windsor is close enough to Detroit to count. Fuck the border.
What's the future of Detroit skateboarding look like?
Bright as fuck. The Danger boys will be holding it down for the next decade while everyone else slips into small tranny retirement.
Future of Community Push?
The future of Community Push is exciting. I've got no idea where it's going to end up. Every time I think something is going to happen, something better comes out of it. But next year we've got the Riverside Park that the city is paying us to run operations of, and hopefully an indoor spot before then. But I'd like to focus on more community outreach and programming once we can get a permanent home. But that's the most important thing, is giving everyone somewhere fun to skate.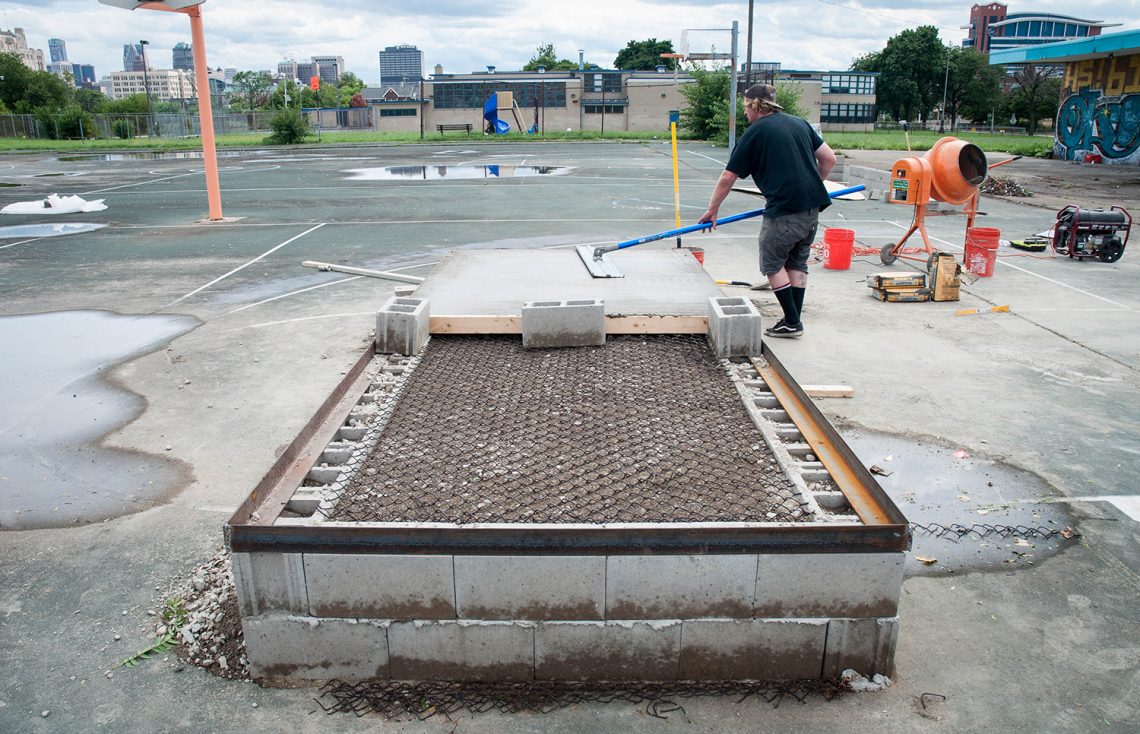 What is "Hoe Check?"
"Hoe Check" is a term I picked up behind bars years ago. I guess it derives from a pimp keeping tabs on what's "his" but it's basically just a way of fucking with your friends. Write it somewhere creative so they see it later on and know they got "got." Call someone up and when they ask what's going on tell them "nothing, just hoe checking." and hang up. It's not a sexist term or anything, more men are hoes than women these days.
How many bags of Doritos do you consume in one month?
That flexes, sometimes I'll just eat them for dinner not because I can't afford anything better, but because I feel nothing will taste as good. But over the course of the year, I could probably buy a car. A nice one with air conditioning.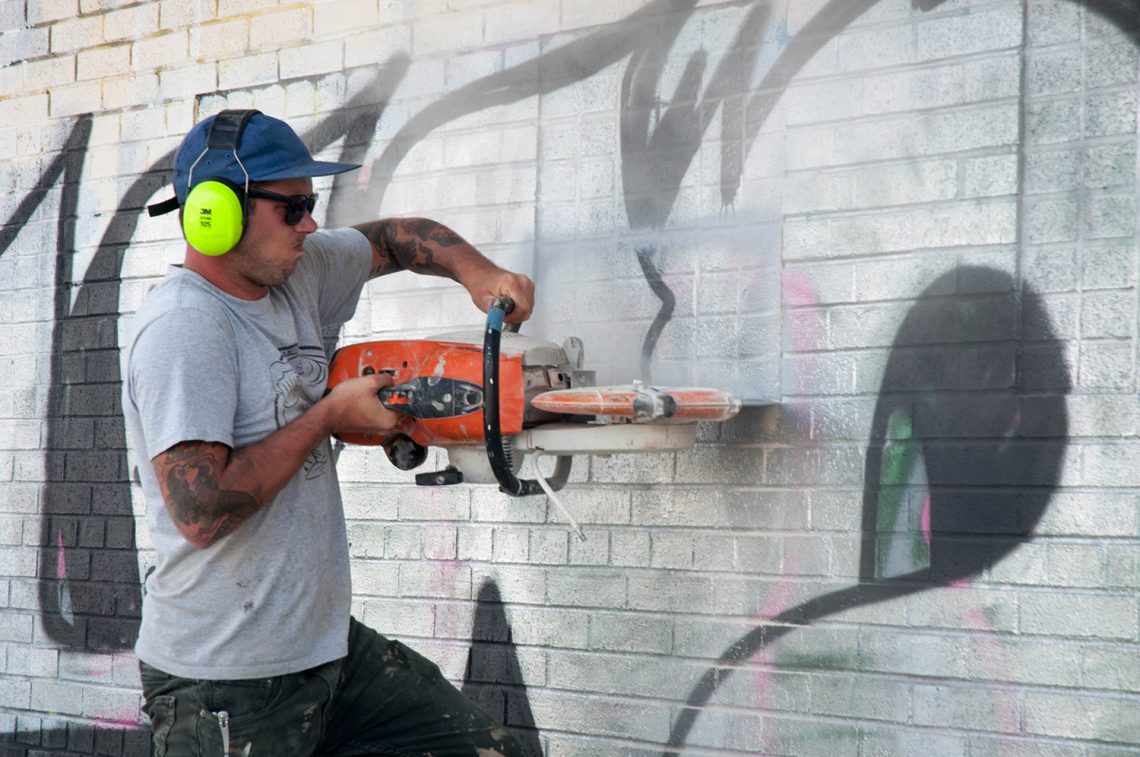 When is the next event your throwing?
That's currently up in the air. We have had two the last two weeks and the last one took a couple hundred out of my pocket, so we might need to hold up for a minute while we work on some stuff. I wish running Community Push was just throwing parties all the time, but we've got too much work going on right now. And it's not even the fun work that gets you dirty.